Kawai Founded in Hamamatsu, Japan
1927
After investing many years leading the Research & Development effort for another Japanese piano company, Koichi Kawai (front row center with glasses) and seven kindred colleagues formed the Kawai Musical Instrument Research Laboratory in Hamamatsu, Japan.
First Grand Piano Built
1928
The first Kawai Grand Piano was produced in Hamamatsu, Japan.  Koichi Kawai's dream to build the world's finest pianos had begun.
A New Name
1929
Company name changed to Kawai Musical Instruments Manufacturing Company.
Piano Production Capacity Increases
1935
Production capacity increases to 75 upright pianos and 10 grand pianos per month.
Koichi Kawai Receives Blue Ribbon Medal
1953
Koichi Kawai receives the prestigious "Blue Ribbon Medal" from the Emperor of Japan, becoming the first person in the musical instrument industry to receive such an honor.
Shigeru Kawai, President of Kawai
1955
Koichi Kawai died suddenly in October of 1955 at the age of 70. Succeeding him at the helm was 33-year-old Shigeru Kawai who would lead his family's company into the realm of modern manufacturing.
Kawai Music Education Programs
1956
Believing that music education was the key to any instrument purchase, Shigeru Kawai built a network of Kawai Music Schools. And since these schools would require teachers, he created the Kawai Academy of Music to train qualified music teachers to staff the newly established schools.
Kawai Electronic Organs
1960
Kawai joins the electronic world by releasing its first non-acoustic musical instruments.
Maisaka Factory Opens
1961
Kawai opens a piano factory in Maisaka as the main assembly plant.
Kawai Piano Technicians School
1961
Shigeru Kawai inaugurates the Kawai Piano Technical Center to train service technicians in the art of caring for pianos.
Kawai America Launched
1963
Kawai America Corporation is established in 1963 -- followed by Kawai Europe, Kawai Canada, Kawai Australia and Kawai Asia.
Aluminium Action Rails
1965
Kawai introduces the first set of action rails made entirely of aluminum.
ABS Composite Material Used in Kawai Upright Pianos
1970
Kawai boldly pioneers the use of ABS composite material in upright pianos.
ABS Composite Material Used in Kawai Grand Pianos
1975
ABS composite material is utilized in Kawai Grand Piano actions for the first time.
Kawai Canada Established
1975
Kawai Canada is established in Winnipeg, Canada.
Kawai Celebrates 50th Anniversary
1977
Kawai celebrates the 50th anniversary since Koichi Kawai began his quest to build the world's finest pianos.
1 Million Pianos Produced
1978
Kawai reaches a historic landmark of 1 million pianos produced.
Ryuyo Grand Piano Factory Established
1980
Opening in 1980, the 300,000 square-foot Ryuyo Grand Piano Factory was built at a cost of $50 million. Ryuyo embodies the perfect "marriage" of hand-craftsmanship and advanced technology. It is equipped with the most sophisticated piano-building tools available and is staffed by the most knowledgeable and experienced piano personnel in the world.
Aluminium Action Brackets
1980
Kawai introduces die cast aluminum action brackets to provide an added measure of strength, uniformity and stability for accurate touch over time.
Shigeru Kawai Awarded Blue Ribbon Medal
1985
Shigeru Kawai follows in his father Koichi Kawai's footsteps and is awarded the Blue Ribbon Medal from the Emperor of Japan.
Kawai Digital Pianos Launched
1986
Digital pianos are added to expanding line of Kawai instruments.
Hirotaka Kawai, President of Kawai
1989
In 1989, the presidency of the company was passed to Shigeru's son, Hirotaka Kawai. Hirotaka began with a pledge to carry on the commitment to excellence established by his father and grandfather.
Kawai Piano Manufacturing Begins in America
1995
Kawai America Manufacturing is established in Lincolnton, North Carolina.
Kawai Receives Highest Environmental Certification
1997
Kawai becomes the first company in the piano industry to receive ISO 14001, the world's most prestigious certification for environmental excellence.
Shigeru Kawai Grand Pianos Introduced
2000
Having spent nearly 50 years leading the Kawai company, chairman Shigeru Kawai unveils his personal legacy to the piano world -- the Shigeru Kawai Grand Pianos.
Kawai Introduces Millennium III Action
2004
Kawai introduces the revolutionary Millennium III Action featuring components made of ABS-Carbon, a new composite material created by the infusion of carbon fiber into our existing ABS Styran.
Kawai RX Series Grands Named MMR "Piano Line of the Year"
2005
For three straight years beginning in 2005, the Kawai RX Series Grand Pianos received the prestigious "Acoustic Piano Line of the Year" award from Musical Merchandise Review (MMR) magazine.
Kawai's K-3 Professional Upright Wins "Four in a Row"
2009
Beginning in 2009, the K-3 Professional Upright Piano wins MMR Magazine's Dealers' Choice "Acoustic Piano of the Year" award in four consecutive years.
Hirotaka Kawai Awarded Grand Cross of the Order of Merit
2010
Current President of Kawai, Hirotaka Kawai, is awarded the Grand Cross of the Order of Merit of the Republic of Poland.
GX BLAK Performance Series Grand Pianos Introduced
2013
The GX BLAK Performance Series Grand Pianos become the highly-regarded successors to the award-winning RX Series.
MP Series Awarded MMR Digital Piano Line of the Year
2014
The Kawai MP Series Digital Pianos is awarded the MMR Dealers' Choice "Pro Digital Piano Line of the Year" award.
The New Kawai "K Series" Professional Uprights introduced.
2014
Kawai introduces its new, more advanced line of K Series Professional Upright Pianos.
CN Series Digital Pianos Win Two Major Industry Awards
2014
The Kawai CN Series digital pianos win the MMR Dealers' Choice "Home Digital Piano Line of the Year" award and the Music Inc. "Product Excellence" award in the same year.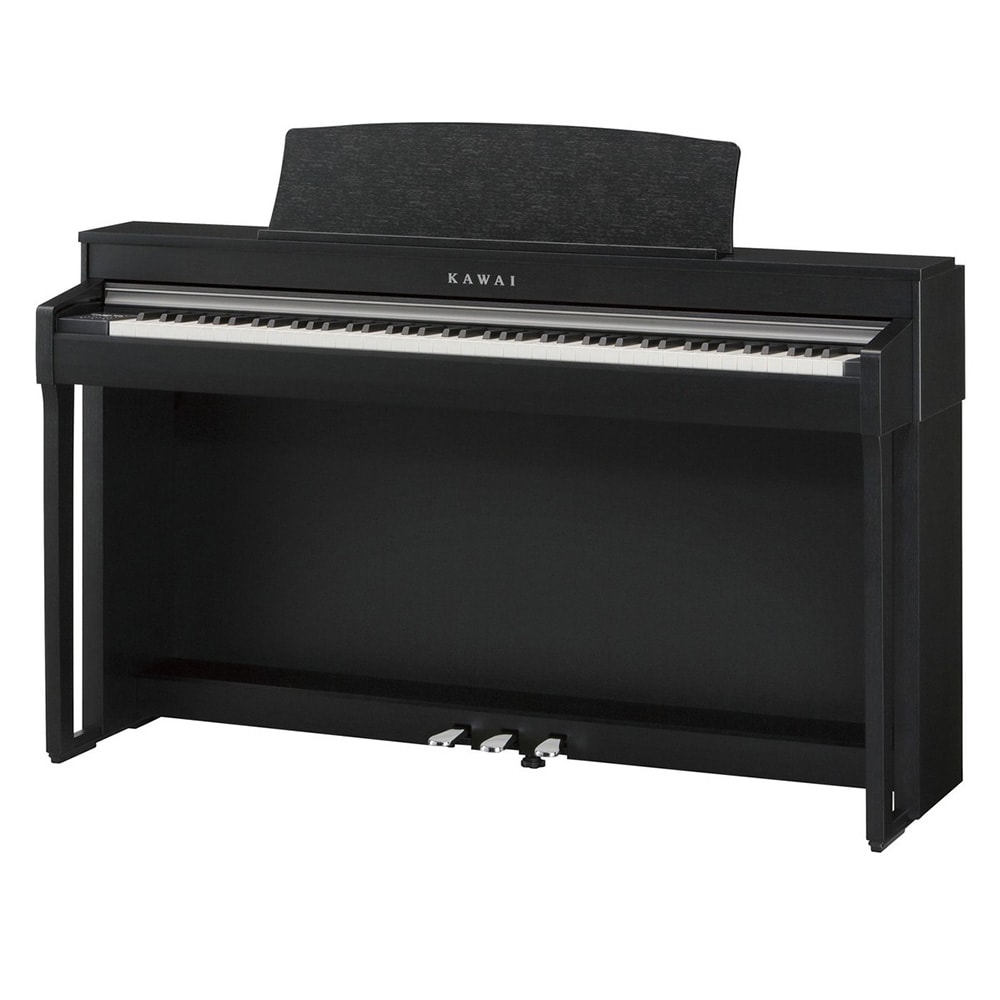 KAWAI CS10 Hybrid Digital Wins Music Inc. "Editor's Choice" Award
2014
At the 2014 NAMM Show (the 2nd largest music products industry trade show), the Kawai CS10 hybrid digital piano wins the coveted Music Inc. "Editor's Choice" award.
Kawai Russia Established
2014
A new subsidiary company, Kawai Pianos Russia, is established in Moscow.
Kawai Employs More Than 4000 Across the World
2015
Kawai has grown to employ over 4000 people who bring Koichi Kawai's dream to life building the world's finest pianos.
Kawai GL Grand Series Pianos Introduced
2015
Kawai introduces introduces a brand new line of professional grand pianos -- the GL Series.
First Overseas Showroom Opens in Houston, Texas
2015
Kawai Piano Gallery, the first Kawai retail store to be established outside Japan, is launched in Houston, TX.
Kawai China Established
2016
Kawai Musical Instruments (China) Co., Ltd. is established in Shanghai.
Second Overseas Showroom Opens in Dallas, Texas
2017
Kawai Piano Gallery of Dallas becomes the 2nd Kawai retail store to be opened outside of Japan.
GX-2 Grand Piano Wins Product Excellence Award
2017
The Kawai GX-2 Grand Piano wins the Music Inc. "Product Excellence" award. This was the 10th award received by Kawai from Music Inc. Magazine for product or service excellence.